The Castle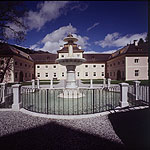 Some doubts remain about the origins of the castle. The castle's original tower was named after Rudolfus Lupus from the Wölfe ('Wolves') noble family. At the end of the 15th century the Wölfe family died out and in 1574 the castle became property of the Grebmer family. 200 years later the property passed on to the Sternbach family. The actual baroque castle was built between 1727 and 1741 by Franz Andrä von Sternbach. The castle's main facade with the twin towers facing the valley is actually quite impressive.

The peculiar roof structure of the building is likewise noteworthy.
To the present day, Wolfsthurn castle is owned by the Sternbach noble family.


1st Floor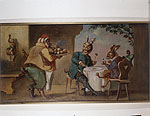 The museum focuses on hunting and fishing not so much from the point of view of natural history, but rather from a cultural and historical perspective. For this reason local popular art also plays an important role in the exhibition, beyond the due space devoted to local wild animals.Some stuffed representatives of the local fauna can be admired in special dioramas. Visitors can admire hunting tools such as powder horns, hunting bags and various sets of cutlery. The collection also includes other objects such as snuff boxes, pipes, and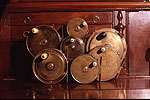 drinking glasses. Most of these objects are nicely decorated with popular art motives.

Beyond learning about the history of fishing in South Tyrol, visitors can explore dioramas (glass showcases) with different kinds of local fresh-water fish. The "Rudolf Reichel" collection - which includes several valuable reels, rods and lures - completes the exhibition on this floor.
2nd Floor

The second floor is entirely dedicated to the history of the castle itself.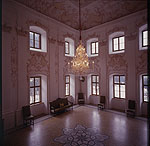 There are allegedly 365 windows in the castle. During the baroque period people liked to combine certain numbers, like the number of days in a year for example, with the planning of architectural features.
The palatial rooms have been preserved in their original status. Visitors can thus get a good idea of how the local nobility used to live during the 18th and 19th century. All the furniture, paintings, family portraits and wall decorations of this exhibition area are part of the castle's original interior setting.

Wandering through the magnificently furnished rooms, visitors can admire: an artistic ceiling with stucco works in pastel colours; furniture dating back to different periods; the castle's dance hall with its impressively high ceiling and attached crystal chandelier; the large living room with a hand-painted Rokoko oven and Biedermeier portraits; two "Jagdzimmer" (hunting rooms) artistically decorated with fine wall carpets that feature hunting scenes involving the local nobility.