More Information about Museum Items


At the Museum's entrance

Saint Corbinian of Freising

Just near the Museum's entrance, visitors can see a bishop's statue surrounded by grapevines. It is the statue of Saint Corbinian of Freising, a holy image which stands at the centre of winegrowing history in South Tyrol.
















Room 1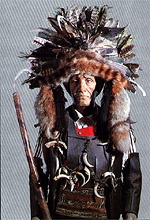 The "Saltner"


The "Saltner" was a kind of local vineyards watchman, who from mid August to mid October, during the grapes ripening time, was supposed to wander through the vineyards in order to keep away grape thieves and predators.During the second half of the 19th century, the Saltners began to wear a particularly striking outfit for folklore purposes.
Room 2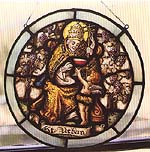 Religious popular art


In many cases wine is a theme for depictions in artistic religious contexts. Motifs like vines, grapes and wine are often represented in religious paintings and ornaments. In past centuries stained glass painting patterns like "Jesus treads the Winepress" used to be particularly popular.


Room 3

Short films about the history of wine, the daily work in the vineyard and the development of wine growing activities are shown in this room.

Room 4

The Wine Cellar cellar

In former times this vaulted store room was the tithing cellar owned by the "Landesfürst" or local ruler. This was the place where the tax-paying winegrowers were supposed to deliver the tenth part of their wine production. Nowadays various working tools and wine-making implements, like the big winepresses and barrels of different sizes, are exhibited in this cellar.
The "Torggl" cellar
In South Tyrol the winepress is called "Torggl". This vertical winepress is characterized by a big wooden screw. More recent types of winepresses are mainly horizontal and are provided with pistons.






Glasses, bottles and flasks

Once not only wooden barrels but also goat-skin and pumpkin flasks were used to hold and store wine. The fragile and rather expensive glass bottles were mostly protected in a cover of straw, leather or in a kind of root basket.







Room 5

The Wine Fermentation Vats

The huge wine vats or "Stander" are placed in a special fermentation cellar called "Ansetz", where the wine is left for some weeks to promote the process of fermentation.



Distilled Liquors
Various distillation methods and techniques were brought back from the orient by the crusaders. Originally distillates were mainly used for medical purposes. Outside the wine producing areas people used to drink various kinds of liquors, such as "Kranebitter, Obstler, etc."


The "Kellergeist"

This carved wood statue is called "Kellergeist" (lit. the cellar ghost) whom heavy drinkers with cloudy vision imagined roaming about the wine taverns. Of course?, the ghost was responsible when the level of their beloved liquid in the bottle fell dramatically.





Room 6 und 7

The typical Wine cellar

Every winegrower is particularly proud of his cellar. In former times it was considered an honour to be invited into a wine cellar.
In the Museum's typical wine cellar it is possible to join tasting sessions of wines from South Tyrol. Advance booking is necessary.