The Vineyard

Ancient Grapevine Varieties and the Pergola System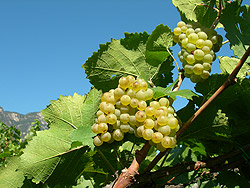 From the vineyard in front of the Museum you can enjoy a superb panoramic view towards the surrounding landscape with wooded hills, the old Leuchtenburg mansion and the lake. Particularly interesting are the old pergola structures, which were once used in winegrowing.

The grapes of the ancient varieties, which still grow in our vineyard, are particularly tasty. In autumn, during vintage time, guests are allowed to pluck some grape sampling for tasting.

Nowadays these original varieties are not commonly grown any more. Their names are e.g.: Bozner Seidentraube, Weiße Erdbeertraube, Blatterie and Gschlafene.